SF's Begley wins West Tyrone by-election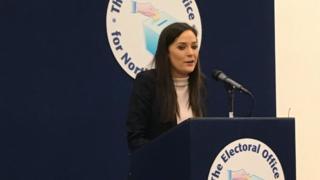 Sinn Féin's Órfhlaith Begley has won the West Tyrone by-election.
The poll was triggered by the resignation of Sinn Féin's Barry McElduff in January.
Candidates from Northern Ireland's five main parties were represented on the ballot paper.
The turnout was 55.13% – 35,337 of the 64,101 eligible voted. Ms Begley received 16,346 votes, with the DUP's Tom Buchanan second with 8,390.
The turnout was down from 68% in the last Westminster election.
Earlier, police arrested a man on suspicion of possessing a firearm with intent following an incident at a polling station in Greencastle.
It happened at Our Lady of Lourdes Primary School at about 13:00 BST.
It is understood after handing over his ballot paper, the man produced what appeared to be a handgun.
He then left the polling station and staff contacted the police.
It is understood members of the public were casting ballots at the time but that they were unaware of what was happening and no-one was harmed.
A 59-year-old man remains in police custody.
Chief Electoral Officer Virginia McVea visited the polling station shortly after the incident to hear the details of what happened directly from the staff who witnessed it.
She told the BBC she was very impressed with how they conducted themselves, saying that that they "remained calm throughout" and "were mindful of other people in the room at the time".
She added that voting at the polling station has not been interrupted.
Sinn Féin leaders Mary Lou McDonald, Michelle O'Neill and West Tyrone candidate Órfhlaith Begley were delayed entry to the count centre in Omagh because they had no photographic ID.
The returning officer authorised their entry.